Explore Summerlin's finest single-story new homes.
Enjoy luxury living with modern amenities in the heart of summer.
Start your dream home journey here!
Discover the diversity of single-story homes in Summerlin, Nevada.
With distinguished builders like Lennar, Toll Brothers, and Taylor Morrison offering a range of floorplans and amenities, prospective homeowners can find residences tailored to their preferences.
These homes, varying in size and price, offer open-concept living, gourmet kitchens, and luxurious master suites.
The strategic location of these communities affords easy access to schools, parks, shopping, and dining, ensuring a convenient lifestyle.
Key Takeaways
Summerlin, Nevada has a variety of new single-story homes available for purchase.
Popular options include communities like Peak at Mesa Ridge by Lennar, Mesa Ridge Overlook Collection by Toll Brothers, Regency by Toll Brothers, and Savannah by Taylor Morrison.
Factors to consider when choosing a new single-story home in Summerlin include location, size, and price.
It is important to visit different communities and talk to different builders before making a decision.
New Single-Story Homes in Summerlin
Sorry we are experiencing system issues. Please try again.
A considerable number of new single-story homes are currently available in Summerlin, Nevada.
These homes offer a diverse range of sizes, prices, and community features to potential homeowners.
Whether a spacious bungalow, a cozy cottage, a modern ranch house, or a traditional ranch-style home, these homes cater to a variety of lifestyle needs.
The one-story home designs provide easy accessibility and efficient use of space, making them ideal for various demographics, from young families to retirees.
The beauty of these architectural styles is matched by the amenity-rich communities in which they reside.
These communities boast features like proximity to schools, parks, and shopping centers.
With prices ranging from the low $500,000s to over $1 million, there's a new single-story home for every budget in Summerlin.
Popular Single-Story Communities
Boasting a range of top-notch amenities and unique architectural styles, the popular single-story communities in Summerlin offer prospective homeowners a diverse selection of neighborhoods to choose from.
The Peak at Mesa Ridge, Mesa Ridge Overlook Collection, and Regency are among the elite communities attracting discerning buyers.
Each features expansive single-story floorplans, gourmet kitchens, and luxurious master suites.
Savannah in the Redpoint District offers seven exclusive single-story floorplans. Other noteworthy communities include the Canyons of Summerlin, Country Club Hills, and Eagle Hills.
Each community reflects its unique character, ensuring a perfect fit for different lifestyle preferences.
With sizes ranging from 1,700 to 4,000 square feet and prices starting in the low $500,000s, these communities cater to a wide spectrum of budgets and needs.
Choosing Your Summerlin Location
When it comes to picking out your new single-story home in Summerlin, taking into account the location within the diverse range of villages is a vital step in the decision-making process.
Each village, such as The Cliffs or Redpoint, offers a distinctive character and amenities.
Proximity to schools, parks, shopping and dining is often a key consideration. Some villages offer panoramic views of the Red Rock Mountains, while others boast resort-style backyards.
The size and price of the homes also vary significantly across the villages.
Setting a budget and understanding your spatial needs are also crucial.
Visiting various communities and communicating with different builders can provide valuable insights to make an informed decision.
Size and Layout Considerations
Understanding the size and layout of new single-story homes in Summerlin is essential in aligning your spatial needs with your lifestyle preferences.
The sizes of these homes range from approximately 1,700 to over 4,000 square feet.
The layout typically includes open-concept living areas and gourmet kitchens, promoting a sense of openness and connectivity.
Luxurious master suites are a standard feature, offering residents a private retreat.
The size and layout influence the home's functionality and comfort.
Prospective homebuyers should carefully consider their spatial needs and living habits.
A family with children may require more bedrooms, while an avid cook might prioritize a larger, well-equipped kitchen.
Budgeting for Your New Home
Prospective homebuyers in Summerlin must diligently prioritize budgeting to ensure they secure a new single-story home that aligns with their financial capabilities.
Essential factors to consider include the home's price, property taxes, home insurance, and potential homeowners association fees.
It is crucial to account for closing costs, moving expenses, and the cost of any desired upgrades or renovations.
A precise understanding of these costs enables realistic budget planning.
Prospective homeowners should also consider getting pre-approved for a mortgage, which can clarify their budget range.
Setting aside funds for unexpected expenses is always a smart move.
Proper budget planning can make the journey to homeownership in Summerlin smoother and more financially stable.
Frequently Asked Questions
What Are the Property Taxes Like for Single-Story Homes in Summerlin?
Property taxes in Summerlin vary based on assessed home value.
On average, homeowners may expect to pay approximately 0.64% of the property's assessed value annually, although rates can fluctuate based on specific location and improvements.
Are There Any HOA Fees Associated With These Single-Story Communities in Summerlin?
Yes, homeowners association (HOA) fees are common in Summerlin's single-story communities.
The amount varies by community and covers amenities like community maintenance, landscaping, and potentially access to recreation facilities.
Always confirm these details before purchasing.
What Kind of Amenities Do These Single-Story Communities in Summerlin Offer?
Single-story communities in Summerlin offer various amenities like open-concept living areas, gourmet kitchens, luxurious master suites, and resort-style backyards.
Some also provide stunning views of the Red Rock Mountains and proximity to local attractions.
What Is the Process for Customizing a New Build Single-Story Home in Summerlin?
The process for customizing a new build single-story home involves selecting a suitable floor plan, choosing finishes and upgrades with the builder, and regular consultations to ensure the project aligns with personal preferences and budget.
Are There Any Energy-Efficient Features or Smart Home Technologies Included in These New Single-Story Homes in Summerlin?
Yes, many new single-story homes in Summerlin incorporate energy-efficient features and smart home technologies.
These may include high-efficiency HVAC systems, LED lighting, smart thermostats, and solar panels to enhance comfort and reduce energy consumption.
Summerlin, Nevada, offers a diverse selection of single-story homes to accommodate varying tastes, budgets, and space requirements.
With distinguished builders offering a wide range of floorplans and amenities, potential homeowners can find a property that aligns with their lifestyle needs.
The unique villages within Summerlin provide convenient access to schools, parks, shopping, and dining, making it an appealing location to settle.
Thorough research of the available communities and builders is essential to find the ideal home in Summerlin.
Single story new homes Summerlin built along the Spring Mountains, Granite Heights offers modern luxurious single story new homes master planned community designs and majestic valley views in the Cliffs Village of the Summerlin® master plan.
Single Story New Homes Summerlin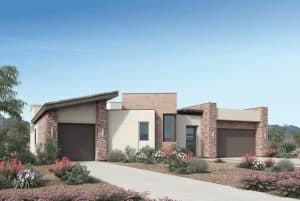 Granite Heights is a gated community of 85 contemporary all new homes Summerlin, located within the Cliffs Village in the prestigious Summerlin® master plan.
New home rebates Las Vegas specialize in helping home buyers find ALL homes that match their EXACT criteria.
Once you find a home you want to purchase, we'll help negotiate the lowest price possible PLUS rebate you up to 1% (of the purchase price) at closing!
That's $5,000 cash back on the purchase of a $500,000 home!
Our concept is to assist buyers with their home search, help identify relevant areas/homes and answer questions along the way – without any cost, pressure, or obligation.
We realize that today's buyer does not want to be led around by an agent and have responded by developing a system that empowers our home buyers clients with the same tools and information we use so that you are in control of the process.
Your 1% new construction cash back rebate will be in addition to any special promotional pricing, discounts, closing credits, free options, upgrades or any other incentives that the builder may be offering at the time of your purchase.
The best part is that our services to help you purchase a new home will not cost you a penny!
Unique new homes Summerlin designs feature open floor plans, 10-16' ceilings, and unique indoor/outdoor living spaces that showcase panoramic views of Las Vegas and the Spring Mountains.
Top rated Summerlin® private and public schools.
Close to shopping and major roadways.
Access to the Summerlin® trail system, parks, and recreational opportunities including park and Paseos walking path adjacent to Granite Heights.
Granite Heights single story new homes Summerlin is located on the hillside with no future development farther up the mountain.
Contemporary one story new construction designs designed to showcase city and mountain views.
Community Details
Address: Sky Post Road & Copper Point RoadLas Vegas, NV 89135
County: Clark
Home Type: single story new homes Summerlin
Community Type:

Future Summerlin Master Planned Community

GPS Coordinates:

36.0788

,

-115.3211
Single Story New Homes Summerlin 
Intimate courtyard at entry is sure to impress
Appealing den is ideal for home office use
The open design main living spaces boasts soaring ceiling heights and access to covered patio
Expansive sliding glass doors open up the great room to the generous covered patio
Master bedroom features a luxurious master bath and a king-sized walk-in closet
Each of the secondary bedrooms includes a walk-in closet and a full bath
Impressive sliding door systems unify the main living areas with the covered patio
Master bedroom is complete with a sitting area, dual walk-in closets, a luxurious master bath, and covered patio access
An accommodating guest suite overlooks the interior courtyard
Top world class property for sale branding Internationally.
Combining our marketing with RE/MAX and our website "Single story new homes Summerlin" and we have you covered!
Call 702-508-8262 and ask to speak with custom single story new homes Summerlin Robert Ratliff – RE/MAX Realtor.
When buying or selling Las Vegas homes for sale.
Contact an experienced Realtor!
Bob and Diana
Robert Ratliff RE/MAX Reliance
702-508-8262
3700 S Hualapai Way #201
Las Vegas
,
NV
89147
Monday, Tuesday, Wednesday, Thursday, Friday
9:00 am – 5:00 pm
Single Story New Homes Summerlin