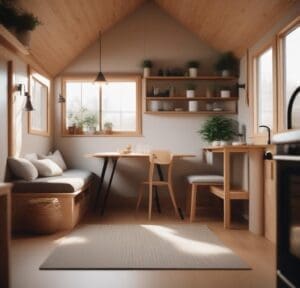 Discover the ultimate guide to tiny home living and unlock the secrets to simplifying your life and maximizing your space.
Explore the growing trend of tiny home living with our comprehensive guide.
From understanding the concept and types of tiny houses to navigating zoning considerations, cost factors, and the decision-making process between building and buying.
This article provides valuable insights for those considering this unique housing option.
Whether you're looking to downsize, simplify your life, or contribute to environmental sustainability, our guide aims to equip you with the knowledge to make informed decisions about tiny home living.
Key Takeaways
Tiny home living are dwellings with 400 sq. ft. or less of floor space, appealing to those looking to downsize, simplify their lives, eliminate clutter, live more cheaply, and help the environment.
Tiny houses can be built on a foundation or on trailers, and there are countless variations available, including DIY kits, blueprints, and ready-made options.
The ability to live in a tiny house depends on zoning laws, which vary from state to state and county to county. Rural areas tend to be more tiny house friendly, and there are also tiny house communities and the option to register a mobile tiny house as an Accessory Dwelling Unit (ADU) on existing properties.
The cost of a tiny house can vary greatly, with an average range of $25,000 to $75,000. Customization and features can significantly impact the price, with luxury tiny houses costing over $100,000. It's important to consider additional expenses, such as custom-ordered appliances and bathroom fittings. Building a tiny house allows for customization and design control, while buying offers a quicker transition to tiny living. There is also a resale market for tiny home living houses, providing road-tested options.
Understanding Tiny Home Living
Woman Shares Unfiltered Reality of Tiny House Living + Finances & Parking Challenges
In the realm of tiny house movement options, understanding tiny home living involves embracing a lifestyle focused on minimalism and resource efficiency.
A micro home, also known as a compact home, downsized home, or small dwelling, typically offers less than 400 square feet of living space.
Embracing this lifestyle means prioritizing the efficient use of every square inch, encouraging residents to simplify their lives and eliminate unnecessary clutter.
The appeal of tiny home living lies in its potential to reduce living expenses, promote environmental consciousness, and provide a sense of financial freedom.
While it offers numerous benefits, it also presents challenges such as limited space, the need for multifunctional furniture, and potential zoning restrictions.
Types of Tiny Houses
7 Types Of Tiny Homes You Can Buy Today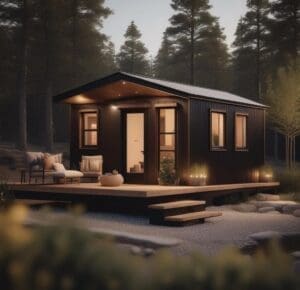 When considering the various types of tiny houses, individuals must evaluate the unique features and appeal of each option, keeping in mind the potential challenges and benefits associated with tiny home living.
Tiny houses on wheels (THOWs) are built on trailers, offering portability for a nomadic lifestyle.
Park model tiny homes are designed for permanent placement in parks or RV communities, providing a more spacious living experience.
Converted school buses offer a unique and spacious base for tiny house conversions, appealing to DIY enthusiasts.
Yurts, originating from Central Asia, provide a cozy living space with a unique architectural style.
Cob houses, made of clay, sand, straw, and water, are praised for their energy efficiency and eco-friendly construction.
Vardo tiny houses, traditional horse-drawn wagons, offer a blend of history, craftsmanship, and compact living.
Tumbleweed Tiny Houses provide a minimalist and sustainable approach to tiny living.
Granny pods offer flexible, self-contained dwellings for additional living space.
Tiny House Zoning and Location
The zoning regulations and location considerations for tiny houses in southern Nevada play a crucial role in determining suitable areas for tiny home living.
Zoning Regulations
Vary by municipality
Tiny houses are permitted as accessory dwelling units (ADUs) in most residential zone
Specific size and setback requirements apply
Location Considerations
Access to utilities such as water, sewer, and electricity
Proximity to amenities like grocery stores, shops, and restaurants
Climate, with a hot desert climate in southern Nevada
These factors should be carefully weighed when choosing a location for a tiny house in southern Nevada.
It is important to consider the specific zoning regulations of each municipality to ensure compliance.
Cost Considerations
Tiny House Builder Shares Real Costs & Important Considerations BEFORE Buying or Building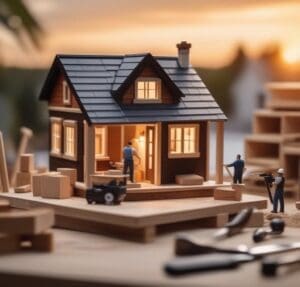 A tiny home's cost considerations are a key factor in determining the feasibility of transitioning to tiny home living.
The average cost of a tiny home falls within the range of $20,000 to $80,000.
This figure can vary based on factors such as size, materials, features, and location.
The breakdown of average costs includes the shell, interior, mechanical systems, land, and other expenses such as permits and inspections.
To save money, options include building one's own tiny home, purchasing a used one, opting for a simpler design, using recycled materials, doing personal work, and buying used appliances and furniture.
Choosing tiny home living in a rural area can reduce land expenses.
By considering these factors and tiny home living money-saving tips, individuals can make informed decisions about the financial aspects of transitioning to tiny home living.
Building Vs. Buying
CHEAPER to BUILD or BUY!? Full Breakdown / Tiny House / Shed To House Conversion
Considering the decision between building and buying a tiny home requires careful evaluation of various tiny home living factors.
**Building a Tiny Home**
Advantages
Customization: Freedom to personalize every aspect of the design
Cost-effectiveness: Potential savings, especially with DIY skills
Sense of accomplishment: Personal satisfaction and skill development
Disadvantages
Time commitment: Significant investment of time and effort
Skills and experience: Required construction skills or hiring professionals
Permits and regulations: Compliance with local zoning regulations
**Buying a Tiny Home**
Advantages
Convenience and speed: Quick access to prefabricated designs
Quality assurance: Built to code with professional expertise
Professional expertise: Guidance from experienced builders and designers
Disadvantages
Limited customization: Restricted personalization options
Higher upfront costs: Financing and increased initial investment
Potential for hidden issues: Risk of undiscovered defects during initial inspection
Frequently Asked Questions
Can I Finance a Tiny House Like a Traditional Home or Do I Need to Pay for It All Upfront?
Financing a tiny home is not as straightforward as financing a traditional home.
There are several options available for those who want to finance their tiny home purchase.
Traditional Mortgage
Traditional mortgages are typically not available for tiny home living because they are not considered to be permanent dwellings.
There are some lenders who specialize in financing tiny homes and may be able to offer traditional mortgages in certain cases.
Personal Loan
Personal loans are a more common option for financing tiny home living.
Personal loans are unsecured loans, which means that they are not backed by collateral.
This can make it more difficult to qualify for a personal loan with a good interest rate, but it is still a viable option for many people.
RV Loan
If your tiny home is built on wheels, you may be able to finance it with an RV loan.
RV loans are typically available for tiny homes that meet certain size and weight requirements.
Builder Financing
Some tiny home builders offer financing options for their customers.
This can be a good option if you are buying a prefabricated tiny home from a reputable tiny home living builder.
Cash
You can also pay for your tiny home upfront in cash.
This is the most straightforward option, but it is not always feasible for everyone.
Considerations When Financing a Tiny Home
When financing a tiny home, it is important to consider the following factors:
Interest rate: The interest rate you qualify for will affect your monthly payments. Be sure to shop around for the best interest rate possible.

Down payment: A down payment will reduce the amount you need to borrow and can lower your monthly payments.

Loan term: The loan term is the length of time you have to repay the loan. A shorter loan term will mean higher monthly payments, but you will pay less interest over the life of the loan.

Fees: Some lenders may charge fees for processing your loan application or for originating the loan. Be sure to factor these fees into your budget.
Tips for Getting Approved for a Tiny Home Loan
If you are considering financing a tiny home, there are a few things you can do to improve your chances of getting approved for a loan:
Have a good credit score: Your credit score is one of the most important factors that lenders consider when approving loans. If your credit score is low, you may want to consider taking steps to improve it before applying for a loan.

Have a steady income: Lenders want to be sure that you will be able to repay your loan. Having a steady income will make you a more attractive borrower.

Have a down payment: A down payment will show the lender that you are serious about buying a tiny home and that you have some skin in the game.

Shop around for the best interest rate: Don't just settle for the first lender you find. Shop around and compare interest rates from different lenders.
By following these tiny home living tips, you can increase your chances of getting approved for a tiny home loan and find the best possible terms for your needs.
What Are Some Common Challenges or Drawbacks of Tiny Home Living That I Should Be Aware Of?
While tiny home living offers many benefits and can be a fulfilling lifestyle choice, it also presents some challenges and drawbacks that potential homeowners should consider before making the transition.
Here are some of the common challenges to be aware of:
Limited Space: tiny home living by definition have limited square footage, ranging from 100 to 400 square feet. This can pose challenges in terms of storage, furniture arrangement, and personal space. If you are accustomed to a larger living environment, downsizing to a tiny home may require significant adjustments in your lifestyle and habits.

Multifunctionality and Compromises: tiny home living often require furniture and appliances to serve multiple purposes to maximize space utilization. This can lead to compromises in terms of comfort, functionality, and personal preferences. For instance, a convertible sofa-bed may not provide the same level of comfort as a dedicated bed.

Decluttering and Minimalism: tiny home living necessitates a minimalist mindset and a commitment to decluttering. You may need to part with belongings that no longer serve a purpose or fit in the smaller space. This can be an emotional process and may require a shift in your relationship with material possessions.

Zoning Regulations and Placement: tiny home living may face zoning restrictions in certain areas, limiting the options for placement. Some municipalities have specific ordinances regulating the size, placement, and occupancy of tiny homes, while others may not allow them at all. Carefully research local zoning regulations before investing in a tiny home or selecting a location.

Social Perception and Stigma: Tiny house living may not be widely accepted in some communities, and potential homeowners may face challenges with finding suitable parking or living arrangements. There may be misconceptions about the safety, legality, or desirability of tiny homes, which can lead to social stigma or resistance from landlords or neighbors.

Shared Living and Privacy: tiny home living often require shared living arrangements, which can test personal boundaries and require adjustments to privacy expectations. If you are not accustomed to sharing living spaces or have a strong need for privacy, tiny living may not be the best fit.

Off-Grid Considerations: Some tiny homes are designed to be off-grid, relying on solar power, rainwater harvesting, and composting toilets. This can be appealing from an environmental standpoint, but it also requires careful planning, maintenance, and backup systems to ensure consistent access to essential utilities.

Maintenance and Repairs: Tiny homes, like any structure, require ongoing maintenance and repairs. Due to their compact size, issues with plumbing, electrical systems, or appliances can be more challenging to address and may require specialized expertise.

Financial Considerations: While tiny homes are generally less expensive than traditional homes, there are still upfront costs for construction, land acquisition, and utilities. Additionally, ongoing maintenance and potential repairs can add to the overall financial burden.

Lifestyle Adjustments: Tiny house living requires a conscious effort to adapt to a simpler, more minimalist lifestyle. This may involve changes in consumption habits, entertainment choices, and personal possessions. If you are not prepared to make these adjustments, you may find it difficult to thrive in a tiny home environment.
Despite these challenges, tiny house living can be a rewarding and enriching experience for those who embrace its simplicity, flexibility, and connection to nature.
Carefully consider your individual needs, preferences, and lifestyle before making the decision to transition to tiny living.
Are There Any Specific Regulations or Restrictions for Living in a Tiny House Community?
Yes, there are specific regulations and restrictions for living in a tiny home living community.
These regulations vary by municipality, but there are some common themes.
Zoning Regulations: Zoning regulations typically dictate where tiny houses can be located.
In some municipalities, tiny houses may only be allowed in certain zones or as accessory dwelling units (ADUs) attached to a single-family home.
Size and Setback Requirements: There may be restrictions on the size of tiny houses and how far they must be set back from property lines.
These restrictions are designed to ensure that tiny houses do not encroach on neighboring properties or disrupt the overall character of a neighborhood.
Utilities and Connections: Tiny houses must meet the same standards for connection to utilities as traditional homes.
This includes water, sewer, and electrical connections.
Safety Standards: Tiny houses must meet all applicable safety standards, including fire safety, structural integrity, and electrical safety.
Occupation and Residency: There may be restrictions on the number of occupants allowed in a tiny house and whether or not it can be used as a primary residence.
Community Covenants: In addition to municipal regulations, tiny house communities may have their own covenants and restrictions.
These covenants may address issues such as parking, landscaping, and noise levels.
Enforcement: Enforcement of tiny house regulations can vary depending on the municipality and the community.
In some cases, violations may result in fines or even eviction.
It is important to check with the local planning department and the community management before purchasing or building a tiny home in a community.
This will help you ensure that you are compliant with all applicable regulations and restrictions.
Here are some additional tips for navigating regulations and restrictions in tiny house communities:
Do your research: Before choosing a tiny home living community, research the local zoning regulations and community covenants. This will help you narrow down your options and avoid surprises.

Talk to the community manager: The community manager can provide you with specific information about the community's rules and expectations.

Attend community meetings: Community meetings are a great way to learn about the community's culture and get to know your neighbors.

Be an active participant: Get involved in the community and help to make it a positive place to live.
By following these tips, you can ensure that your tiny house experience is a positive one.
How Do I Find a Reputable Builder or Contractor for a Custom Tiny House Build?
Finding a reputable tiny home living builder or contractor for a custom tiny house build is crucial to ensuring the quality, safety, and timely completion of your project.
Here are some effective strategies to identify and select a trustworthy professional:
1. Seek Recommendations
Word-of-mouth: Reach out to friends, family, or acquaintances who have built tiny homes or have experience with reputable builders.

Online communities: Join online forums and groups dedicated to tiny house living and seek recommendations from experienced members.

Professional organizations: Check with local or national organizations related to construction or tiny house communities for referrals.
2. Conduct Thorough Research
Online research: Visit the websites and social media pages of potential builders to assess their portfolios, experience, and customer reviews.

Industry certifications: Verify that builders hold relevant certifications from reputable organizations like the National Tiny House Association or the National Association of Home Builders.

References and testimonials: Request references from past clients and contact them to inquire about their experiences with the builder.
3. Schedule Consultations
Initial meeting: Arrange initial meetings with shortlisted builders to discuss your project vision, budget, and expectations.

Detailed discussions: Engage in in-depth discussions about the construction process, materials, timelines, and communication protocols.

Project proposals: Request comprehensive project proposals that outline the scope of work, costs, and payment terms.
4. Evaluate Credentials and Expertise
Experience: Assess the builder's experience in constructing tiny homes, particularly those similar to your project's design and size.

Skills and certifications: Verify that the builder possesses the necessary skills and certifications to handle the construction aspects of your tiny home.

Insurance and liability coverage: Ensure that the builder has adequate insurance and liability coverage to protect you from potential risks.
5. Assess Communication and Transparency
Communication style: Evaluate the builder's communication style and responsiveness to your inquiries and concerns.

Transparency and clarity: Gauge the builder's transparency in providing information, explaining costs, and addressing potential issues.

Project updates: Confirm the builder's commitment to providing regular project updates and addressing your concerns promptly.
6. Review Contracts and Agreements
Careful review: Carefully review all contracts and agreements before signing to ensure you understand the terms, conditions, and responsibilities.

Legal counsel: Consider seeking legal counsel to review contracts and protect your interests.

Clearly defined scope of work: Ensure the contract clearly defines the scope of work, materials, timelines, and payment terms.
7. Check References and Feedback
Contact past clients: Reach out to past clients mentioned in the tiny home living builder's references to inquire about their experience, satisfaction, and any issues encountered.

Online reviews: Check online reviews and feedback from other clients to assess the builder's reputation and track record.

Industry recognition: Check if the builder has received any industry recognition or awards, indicating a high level of expertise and professionalism.
By following these steps and carefully evaluating your options, you can increase your chances of finding a reputable tiny home living builder or contractor who will bring your custom tiny house vision to life with quality, craftsmanship, and integrity.
Are There Any Special Considerations for Living in a Tiny House With Children or Pets?
Sure, there are some special considerations for living in a tiny house with children or pets.
Here are some tips to help you make the most of your tiny space:
For Children
1. Create Designated Play Areas: Designate specific areas for play and activities to minimize clutter and maximize usable space. Consider using collapsible furniture or multifunctional storage solutions.
2. Encourage Outdoor Play: Encourage outdoor play and exploration to provide ample space for physical activity and limit indoor confinement. Utilize nearby parks, playgrounds, or green spaces.
3. Establish Clear Boundaries: Establish clear boundaries and routines to maintain a sense of order and structure amidst the tiny home living environment.
4. Foster Shared Living: Foster a sense of shared living and responsibility, encouraging children to contribute to household chores and maintenance tasks.
5. Embrace Minimalism: Encourage children to embrace minimalism and decluttering, teaching them to value experiences and relationships over material possessions.
For Pets
1. Choose Pet-Friendly Materials: Select pet-friendly materials for flooring, furniture, and surfaces to minimize damage and ensure easy cleaning.
2. Designate Pet Spaces: Create designated areas for pet beds, food bowls, and toys to keep pet belongings organized and minimize clutter.
3. Ensure Adequate Ventilation: Ensure adequate ventilation to prevent pet odors and maintain a healthy indoor environment.
4. Establish Pet-Friendly Routines: Establish pet-friendly routines, including regular exercise, walks, and playtime, to reduce stress and boredom.
5. Consider Pet-Specific Needs: Consider the specific needs of your pet, such as breed-specific exercise requirements or special dietary needs.
Additional Considerations
1. Safety Precautions: Implement safety precautions, such as securing furniture, covering electrical outlets, and using child or pet gates as needed.
2. Soundproofing: Consider soundproofing measures to minimize noise distractions and ensure a peaceful living environment for children and pets.
3. Storage Solutions: Utilize creative storage solutions, such as under-bed storage, wall-mounted shelves, and multifunctional furniture, to maximize space and minimize clutter.
4. Flexibility and Adaptability: Embrace flexibility and adaptability, as tiny home living may require adjustments to routines and expectations.
5. Foster a Sense of Community: Engage with other tiny house families or pet-owning neighbors to share experiences, exchange tips, and build a supportive community.
Small Housing Living Final Thoughts
Tiny home living offers a unique and alternative housing option for those looking to downsize, simplify their lives, and reduce expenses.
By understanding the different types of tiny houses, zoning considerations, and cost factors, individuals can make informed decisions about whether building or buying a tiny home is the right choice for them.
This guide provides comprehensive insights into the intricacies of tiny home living, equipping readers with the knowledge necessary to navigate this housing trend.
When buying or selling Las Vegas homes for sale.
Contact an experienced Realtor!
Bob and Diana
Robert Ratliff RE/MAX Reliance
702-508-8262
3700 S Hualapai Way #201
Las Vegas
,
NV
89147
Monday, Tuesday, Wednesday, Thursday, Friday
9:00 am – 5:00 pm
Tiny Home Living