Dive into Silverstone Ranch real estate – your gateway to luxury living.
Explore stunning properties in this coveted Las Vegas enclave today!
Sorry we are experiencing system issues. Please try again.
Silverstone Ranch Real Estate
Like a hidden gem in the vibrant city of Las Vegas, Silverstone Ranch is a residential haven that's been turning heads in the real estate market.
As a local realtor, I've seen firsthand how its stunning homes, leisure amenities, and proximity to key city spots make it a hot spot for homebuyers.
Nestled in northwest Las Vegas, this peaceful neighborhood offers homes that suit an array of budgets, with a median list price of $489,900.
Developed by Pulte Homes, it features nine unique neighborhoods, each boasting amenities like pools, patios, and low-maintenance landscaping.
The community's seamless blend of six acres of green space offers a relaxing backdrop for residents.
Plus, its ideal location near the Strip, Harry Reid Airport, and educational institutions like Thomas O'Roarke Elementary and Arbor View High School only adds to its appeal.
Let's delve into why Silverstone Ranch real estate is a true gem in the Las Vegas real estate market.
Key Takeaways
Silverstone Ranch Las Vegas Homes - Silverstone Ranch Real Estate
Silverstone Ranch real estate is a neighborhood located in northwest Las Vegas.
The community consists of nine separate neighborhoods, including open and gated communities.
The average price per square foot in Silverstone Ranch is $222.28, with a median list price of $489,900.
The neighborhood offers a variety of amenities, including a golf course, community green space, walking trails, playgrounds, tennis and basketball courts, and barbecue and picnic areas.
Location and Accessibility
You'll appreciate Silverstone Ranch's prime location, nestled in the foothills of the Sheep Mountains, with convenient access to the 215 Beltway and US-95.
This puts you just thirty minutes from the bustling Las Vegas Strip and forty minutes from Harry Reid International Airport.
The neighborhood's proximity to highways makes transportation easy, whether you're commuting to work or heading out for a night on the town.
Nearby shopping and dining options mean you'll never have to travel far to find what you need.
Local schools, including Thomas O'Roarke Elementary, Ralph Cadwallader Junior High, and Arbor View High, are conveniently located, providing excellent educational opportunities for families.
With these neighborhood amenities and more, Silverstone Ranch real estate offers the perfect blend of accessibility, convenience, and tranquility.
Community Features
It's worth noting that the community you're considering boasts an assortment of nine distinct neighborhoods, some open and others gated, all nestled in the scenic foothills of the Sheep Mountains.
As a Silverstone Ranch real estate resident, you'll have access to a wealth of community amenities and recreational facilities.
The six acres of community green space feature walking trails, playgrounds, tennis and basketball courts, and barbecue and picnic areas.
The neighborhood attractions include the adjacent Floyd Lamb Park, offering lakes, mountains, and abundant wildlife.
The excellent school district includes Thomas O'Roarke Elementary, Ralph Cadwallader Junior High, and Arbor View High School.
These golf course amenities and more make Silverstone Ranch a desirable place to call home.
Home Variety and Pricing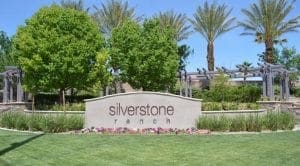 Whether you're looking for a cozy starter home or a spacious family residence, you'll find a variety of options in this neighborhood.
Homes range in size from around 1,400 to almost 4,000 square feet.
The price range is also diverse, accommodating a wide array of budgets, making it attainable for many prospective homeowners.
The housing options in Silverstone Ranch real estate are a testament to its versatility.
The affordability and square footage of homes vary widely, providing options for first-time buyers, growing families, or those seeking luxury living.
As the average price per square foot is $222.28, you can anticipate the value you'll get for your investment.
With such a range of home sizes and prices, Silverstone Ranch caters to diverse real estate needs and preferences.
Nearby Amenities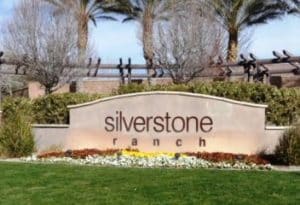 Living in this neighborhood isn't just about beautiful homes; it's also about enjoying the wealth of nearby amenities that contribute to a high-quality lifestyle.
Shopping options abound, with the 215 Beltway and US-95 providing easy access to a range of retail outlets.
Recreational activities are plentiful with Floyd Lamb Park offering fishing, picnicking, and walking trails.
A bevy of dining choices await you, from casual eateries to gourmet restaurants, all within a stone's throw.
Medical facilities are conveniently located, ensuring prompt attention when needed.
Transportation options are excellent, with the Las Vegas Strip just thirty minutes away and Harry Reid International Airport only forty minutes away.
Silverstone Ranch real estate truly offers a lifestyle that's as appealing as its homes.
Buying and Selling Process
Navigating the world of buying or selling a home can feel like embarking on a complex journey through a labyrinth.
With the help of Robert Ratliff with RE/MAX Reliance, you'll find the process is as smooth as a calm river flowing downstream.
Here's how we streamline the buying process and selling process:
1. Detailed Market Analysis: We provide a comprehensive analysis of the Silverstone Ranch real estate market, ensuring that you understand current trends and how they may impact your transaction.
2. Expert Representation: Our team represents your interests throughout the negotiation process, always striving to secure the best possible terms and conditions for you.
3. Accurate Property Value Estimate: We use advanced tools and our vast market knowledge to provide an accurate estimate of your property's value.
With us, your real estate journey will be detail-oriented, well-researched, and successful.
Frequently Asked Questions
What security measures are in place in Silverstone Ranch?
As a resident, I appreciate Silverstone Ranch's security measures.
We have a gated community, robust surveillance systems, and an active neighborhood watch.
Emergency protocols are clearly laid out and security staffing is always vigilant.
How is the climate in Silverstone Ranch throughout the year?
In Silverstone Ranch, we experience diverse weather.
Rainfall patterns show mild winters and hot summers, with temperature extremes from 30° to 105°F.
Seasonal changes influence our climate adaptation, impacting the way we live and commute.
What types of floor plans are most commonly found in the homes at Silverstone Ranch?
At Silverstone Ranch real estate, you'll commonly find open floorplans and split bedrooms.
Many homes boast multi-level designs, while single-story homes are popular too.
Plus, expect luxury features adding a touch of elegance to each home.
How active is the homeowners association in Silverstone Ranch, and what are their guidelines?
Like a well-oiled machine, the Silverstone Ranch HOA is active, with Association Fees funding committee involvement.
They maintain architectural control, enforce landscape regulations, and offer dispute resolution, ensuring a harmonious, well-kept community.
Are there any special events or community gatherings held in Silverstone Ranch?
Yes, Silverstone Ranch hosts annual festivals, sporting events, and holiday celebrations.
There are also charity fundraisers and community cookouts, fostering a vibrant social scene in this desirable neighborhood.
Silverstone Ranch Real Estate Conclusion
In closing, Silverstone Ranch real estate truly stands out in Las Vegas' real estate landscape.
One impressive stat that caught my eye: homes here average $222.28 per square foot, a testament to the neighborhood's value.
It's a vibrant community with a lot to offer.
Whether you're buying or selling, understanding the market trends and details can make a big difference.
Trust me, this place is worth your attention!
When buying or selling Las Vegas homes for sale.
Contact an experienced Realtor!
Bob and Diana
Robert Ratliff RE/MAX Reliance
702-508-8262
3700 S Hualapai Way #201
Las Vegas
,
NV
89147
Monday, Tuesday, Wednesday, Thursday, Friday
9:00 am – 5:00 pm
Silverstone Ranch Real Estate